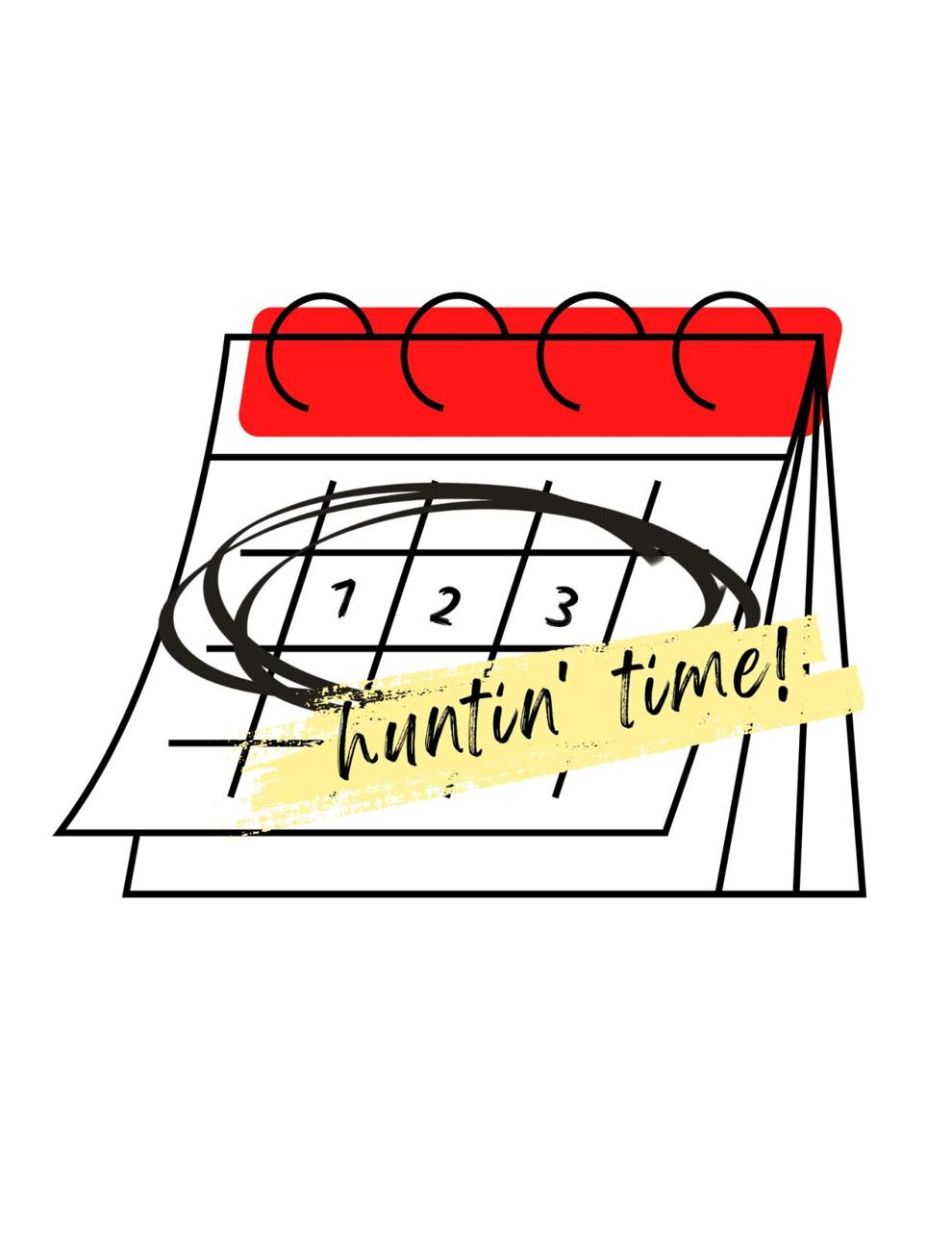 Before he even went through hunters' safety classes, Garret Weichel's family would take him out with them during hunting season in the area around his home of Lewistown, Montana. 
"I'd always go out with my old man and his old man," Weichel said. "It's been in our family for quite some time and we'd do one big trip to start hunting season off and then if nothing came out of that, we'd just go out on weekends or after school, whenever we could find time."
His favorite tag to put in for each year is an Elk B tag, which allows a hunter to take an antlerless elk, according to Montana Fish, Wildlife and Parks. Tags are special licenses issued by FWP that allow someone to hunt a specific animal at a specific time of year. 
Some years, Weichel will apply for a bear tag, and every year since he could hunt, he's entered in for a moose tag, but he said that one's been elusive. 
His love for hunting in Montana is why Weichel, a 23-year-old senior studying wildlife biology at the University of Montana, helped the Associated Students of the University of Montana write a resolution to give students excused absences for hunting in the fall. 
It's also why he's supported two pieces of legislation coming out of the state legislature — one in 2021, and one that's currently making its way through the legislative process. 
Weichel's co-authored ASUM resolution requested the University to offer up to three excused absences to students with proof of hunting tags or tribal IDs — which allow people to hunt on tribal land — during the fall semester.  
"This last hunting season, I ended up going home and I had to miss a day of school," Weichel said. "It was an unexcused absence which was unfortunate, but my dad drew a bull tag and he needed help getting a bull out of the mountains."
He added that some of the tags are rare to get, so if a student got one, they would need to miss school because it could be their only chance to use it. 
"This is something we've done in our high school for the longest time," Weichel said. "Come hunting season, opening weekend, you're not really expected to be in class. It's almost like a pseudo-holiday." 
The resolution passed at the senate's Dec. 7 meeting, where Weichel presented public comment. Senators Maggie Bell, O'Shay Birdinground, Kendal Burcham, Halston Witt, ASUM's business manager Joselyn Jolly and president Elizabeth Bowles are also credited as resolution authors.
According to Bowles, the resolution is currently being brought to UM administrators and other University figures who may help implement it as an official University policy. UM spokesperson Dave Kuntz said the provost's office would make this change, but he is not aware of detailed discussions taking place to implement the policy. However, Kuntz said students can work with individual professors to schedule absences from their classes in advance.
The resolution explicitly makes reference to House Bill 647, which passed in Montana's Legislature with a vote of 71-25 in the House, and 33-17 in the Senate in 2021. 
That bill allowed full-time out-of-state students at Montana universities to purchase their hunting and fishing licenses at resident prices, so long as their home state offers resident rates to Montanans who are college students there and there's no drawing required for Montana residents. With a drawing, some hunters may not get a license. Before that bill was implemented, out-of-state students had to buy a non-resident license, which costs more. 
HB 647 also lets full-time out-of-state students whose states don't offer resident rates to Montana students to get certain licenses for half price.
And this year, House Bill 133 is aiming to further help non-resident students access hunting in Montana by letting students apply for tags online. Currently, those out-of-state students' applications must be submitted at the FWP office in Helena. Other licenses can be purchased on FWP's website.
"To physically be present at that location is kind of time consuming and you have to bring the right paperwork with you and I think sometimes it's kind of a hassle," said Ethan Hanley, ASUM's lobbyist at the state legislature. 
The bill's sponsor, Republican Rep. Russel Miner from Cascade County, said at a hearing on Jan. 5 that FWP requested the bill to see the legislature. 
Hanley said the bill is a simple fix that will provide better access for students. He said the bill felt important to lobby in favor of because a number of students advocated for HB 647 in 2021, and HB 133 will expand upon that access.
For Weichel, he sees these bills as important steps to allow students to get outside, experience Montana and provide food for themselves. He also said the purchase of the tags gives money back to the state and conservation. When hunters purchase a tag, they pay a fee for state conservation efforts.
Weichel added that he thinks expanding hunting access for out-of-state and in-state students could even boost enrollment.
"I have buddies who one of the main reasons they picked Montana was because of the hunting," Weichel said. 
For him, the bills and the ASUM resolution will offer a good opportunity for students to learn about accessing public and private land. 
He suggested students who want to go out hunting for the first time should get in contact with UM's Backcountry Hunters and Anglers club, and added that he's always happy to show people the ropes and help them practice good hunting etiquette.
HB 133 passed its second hearing in the house by a vote of 98-1 on Jan. 16. It will be scheduled for a third hearing in the house before being sent to the senate.
To give public comment to ASUM, you can visit its website: www.umt.edu/asum/senateinfo/default.php. To give public comment at the legislature, you can upload written testimony or testify remotely here: leg.mt.gov/public-testimony/.
If you are interested in getting in touch with UM's Backcountry Hunters and Anglers Club, you can visit the group's page on GrizHub: grizhub.umt.edu/organization/backcountryhuntersandanglers.